Detention Centres
The network of immigration detention centres around the country, often known as the 'detention estate', is made up of Immigration Removal Centres (IRCs) and Short Term Holding Facilities (STHFs).
People can be held at residential STHFs for up to seven days before being removed from the UK, released, or moved to an IRC. People detained at IRCs are held indefinitely. People can also be held under immigration powers in prisons.
More than half are eventually released back into the community in the UK, their detention having served no purpose.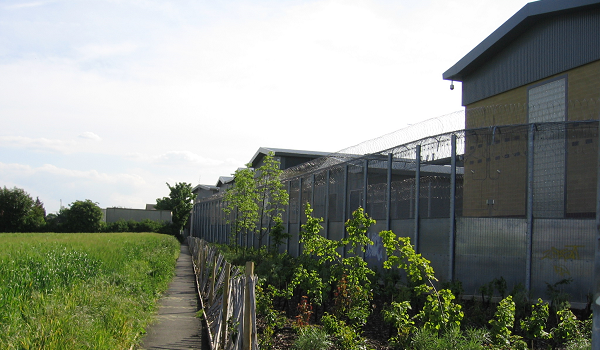 Detention Action supports people being held in Colnbrook and Harmondsworth IRCs near Heathrow airport, Morton Hall IRC in Lincolnshire, and people held under immigration powers in London prisons.
"I gave up thinking about life outside of Colnbrook. I told myself 'Colnbrook is your home now – that is the only way to survive'. My cell became my bedroom. The canteen became my kitchen. When I look back now, it's crazy to think how normal it became to be locked up at night, night after night after night."
– Souleymane, Freed Voices
"They gave me no reasons why I was at Harmondsworth IRC or how long I would stay. The monthly reports they sent me just said they were waiting to hear back from the embassy. But I knew that without a passport or ID card, the embassy would not give them travel documents. I knew it, the embassy knew it, the Home Office knew it, everybody knew it."
– Hamid, Freed Voices
"Their interest in removing you will always outweigh your vulnerability, there is no contest there. I saw loads of vulnerable people inside Morton Hall. Lots of psychotic episodes, people self-harming because they were so depressed. I saw someone cut their throat in front of me."
– John P, Freed Voices
Prisons
People often have deportation proceedings brought against them following prison sentences. Many of these people are then kept in prison indefinitely under immigration powers following the end of their sentences.
People held in prison are being held under the same powers as people in IRCs, but they tend to have stricter conditions. For example, they are not allowed phones, visiting is harder, they do not have legal surgeries, and lack access to vulnerability screenings (R35) that apply in IRCs.
Detention Action provides emotional and practical support for people held in under immigration powers London prisons.
"Once you've served your sentence, you've paid your debt to society, you should be freed. Instead, migrants with convictions to their name serve double sentences."
– Kasonga, Freed Voices
For information on visiting and support groups for detention centres around the country, see AVID's website.